Training our medical professionals
Radiologists
Major metropolitan SA Medical Imaging (SAMI) sites are accredited as training sites by the Royal Australian and New Zealand College of Radiologists (RANZCR), continuing a long tradition of providing high quality training for SA's future Radiologist workforce.
The SA Radiology Training Network comprises just over 50 accredited trainees, with an average of 10 graduating radiologists each year.
The RANZCR Training programme, including research components, is delivered and monitored by SAMI's consultant radiologist workforce with the oversight of the site Directors of Training and Network Training Director.
For more information, please contact the Network Education Support Officer on (08) 7117 2158.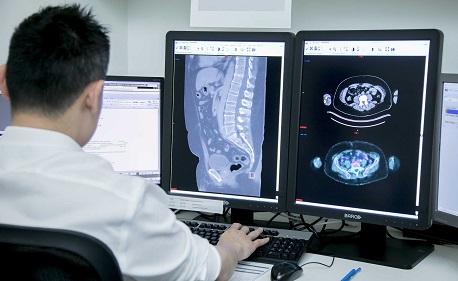 Nuclear medicine specialists
SAMI's nuclear medicine services at the Royal Adelaide Hospital (RAH),The Queen Elizabeth Hospital and Flinders Medical Centre are accredited as advanced training sites by the Joint Training Site Accreditation Committee in Nuclear Medicine (TSAC) and the service at the Women's and Children's Hospital is accredited for paediatric nuclear medicine training. Training in PET scanning is undertaken at the RAH and offered to all trainees. In any year there are 3 advanced training jobs available.
Our sites have a long history of training future specialists in nuclear medicine and offer a diverse range of studies including general nuclear medicine, Positron Emission Tomography (PET), nuclear cardiology and nuclear haematology studies and advanced nuclear medicine therapy. The Adelaide training sites have a strong history of research participation at a local, national and international level and research involvement is actively encouraged. The training is closely supervised and encouraged by the clinical heads and consultant staff.
For more information, please contact Associate Professor Dylan Bartholomeusz on (08) 7074 0687.