For the menu below, use line-by-line navigation to access expanded sub-menus. The Tab key navigates through main menu items only.
Cummins and District Memorial Hospital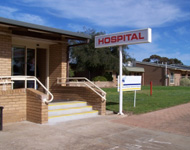 For all emergencies phone 000
Postal address: 21 Tumby Bay Road Cummins SA 5631
Email: HEALTHCHSACumminsHospital@sa.gov.au

Cummins and District Memorial Hospital is part of Eyre and Western Health Services. Cummins provides acute, outreach and aged care services to the communities of Cummins and outlying smaller communities.
COVID-19 information and testing
Due to COVID-19, changes to services, visiting hours and visitor access now apply.
For information on the COVID-19 drive-through testing site go to the Cummins COVID-19 home-based testing service page. For general information on COVID-19 see:

Accident and emergency
This is a 24-hour service. When you arrive at accident and emergency, you will be seen by the duty nurse to collect information and assess your illness or injury.
In a medical emergency, it is important that you do not 'self present' to hospital. SA Ambulance Service emergency medical dispatch support officers can provide advanced first-aid advice over the phone while an ambulance is on its way to you.
For information and updates on COVID-19:
Car parking
There is disabled parking onsite.
Disabled access
The building is wheelchair accessible and there are toilets for people with disability. Please ask at Reception.
Visiting hours
General wards: 2.00 pm to 3.00 pm and 6.00 pm to 7.00 pm.