For the menu below, use line-by-line navigation to access expanded sub-menus. The Tab key navigates through main menu items only.
Country Health Connect - Lock Community Health and Welfare Centre
For all emergencies phone 000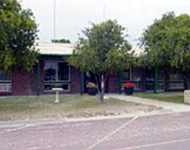 Postal address: PO Box 17 Lock SA 5633
The Lock Community Health and Welfare Centre is part of the Eyre and Western Health Services. Our centre promotes the health and wellbeing of the people of Lock and surrounding districts by providing primary health care and health information, assessments and referrals, education in health issues and promoting healthy living.
Due to COVID-19, changes to services now apply.
For more information see Eyre and Far North LHN response to coronavirus disease 2019 (COVID-19).
Accident and emergency
There are no emergency facilities at this site. The nearest emergency facility is located at Wudinna Hospital.
Car parking
There is no disabled parking onsite.
Disabled access
The building is wheelchair accessible and there are toilets for people with disability. Please ask at Reception.