For the menu below, use line-by-line navigation to access expanded sub-menus. The Tab key navigates through main menu items only.
Eudunda Hospital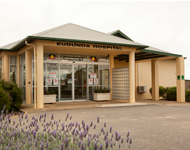 For all emergencies phone 000
Postal address: 40 Ward Street Eudunda SA 5374
Eudunda Hospital provides acute services ranging from in-hospital care for adults and children by local general practitioners to outpatients and aged care beds.
Patients may commence their stay at Eudunda Hospital but finish their care at one of the neighbouring hospitals with specialist medical or allied health input when required. All hospitals in the area work collaboratively to support the patient care needs of the region.
Due to COVID-19, changes to services, visiting hours and visitor access now apply.
For more information see Barossa Hills Fleurieu LHN response to coronavirus disease 2019 (COVID-19).
Accident and emergency services
The Barossa Hills Fleurieu Local Health Network has temporarily closed some of its accident and emergency services, where they are co-located with aged care facilities, to decrease the risk of transmission of COVID-19 and protect aged care residents in the Barossa Hills Fleurieu region.
The temporary closure applies to accident and emergency services at Eudunda Hospital.
Services to the people living in the aged care facility are continuing as planned and in accordance with the advice given by the Commonwealth Department of Health. General practitioners can continue to attend patients in the hospital and aged care residents, as required.
The closest accident and emergency service is at Tanunda Hospital or the Gawler Health Service

Members of the public requiring non-emergency medical attention should go to their local GP, dentist or pharmacy according to their presenting condition.
In an absolute medical emergency, call 000.
In a mental health emergency, call 13 14 65.
Visitor access
For the latest visitor guidelines, visit Barossa Hills Fleurieu Local Health Network response to Corona virus disease 2019 (COVID-19)
For information and updates on COVID-19:
Car parking
Parking is available at the front of the hospital. There is also disabled parking on site.
Disabled access
Eudunda Hospital has full disability access. If you have special needs and are unsure, please contact reception who will assist you with your specific enquiry.