For the menu below, use line-by-line navigation to access expanded sub-menus. The Tab key navigates through main menu items only.
Button battery safety
Lithium batteries are commonly called button, coin or disc batteries because of their small, smooth round appearance. We describe all of these types as 'Button Batteries'. These small shiny batteries are very attractive to inquisitive children and it can take just a split second for a child to swallow one.
Did you know that if swallowed, button batteries can get stuck in a child's throat and cause a severe burn through the oesophagus, stomach, bowel or even inside the ear or nostril if inserted.
These injuries can happen in just 1 to 2 hours and can be fatal. Unfortunately two young children in Australia have tragically died as a result of swallowing button batteries.
Translated information about poisoning and keeping children safe is available on the Kid Safe SA website.

Who and when should you call for help?
If you think your child or any person has swallowed or inserted a button battery, don't wait for them to show symptoms.
You need to take urgent action
Immediately call the Poisons Information Centre on 13 11 26 for expert advice on what to do 24 hours a day, 7 days a week (24/7).
The Poisons Information Centre will tell you what you need to do right now and which hospital you need to go to - to make sure that your child gets the appropriate medical assistance quickly.
Don't induce vomiting or give the person anything to eat or drink (for example Syrup of Ipecac) unless advised by the Poisons Information Centre or other medical professional.
But remember in an emergency situation such as if a person is choking or has collapsed, stopped breathing, or is having a fit phone 000 for an ambulance.
Severe injuries are less likely the older you are but you still need to ask the experts at the Poisons Information Centre what you need to do if an adult has swallowed or inserted a button battery.
Make sure the Poisons Information Centre phone number (13 11 26) is clearly visible on your home phone and stored in your mobile phone.
Who is most at risk?
While we are all at risk, the peak age for button battery related injuries is in children aged five years and under. Even infants can swallow batteries before they are crawling. Older siblings could possibly feed batteries to infants.
Adults might also accidentally swallow button batteries and need medical treatment. This most frequently happens with batteries found in hearing aids. Button batteries can be accidentally swallowed when people hold batteries in their mouths while changing them or if batteries are left out near medications and might be mistaken for a pill or tablet. Hearing aid batteries can look like medicines especially in the dark.
What injuries can happen?
Around 20 children present to a hospital every week in Australia with suspected button battery ingestion. The only way to tell if a button battery has been swallowed is by x-ray.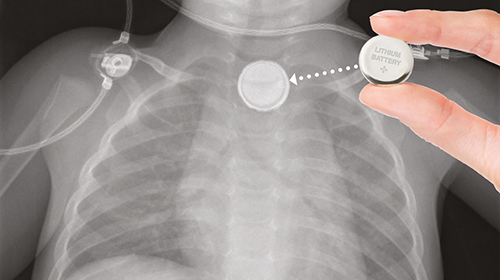 Injuries are caused by:
an electrical current generated by the battery causes burns especially if it becomes stuck in the throat or oesophagus which can cause perforation and even death,
direct pressure tissue damage,
leakage of alkaline chemicals from the battery,
as well as batteries being a choking hazard for young children.
Button batteries can get stuck in a child's throat without blocking their airway - you may not even know that it is in there. The symptoms caused by swallowing a button battery are not unique. These symptoms can look like many other illnesses. They include chest pain, trouble swallowing, breathing difficulties, coughing, drooling, vomiting or refusing food.
Delays in seeking medical treatment can occur if a child does not tell you or is unable to tell you that they have accidentally swallowed, inhaled or inserted a battery. These delays in diagnosis of battery ingestion increase the risk of severe injuries. Remember that even if your child says they haven't swallowed a battery does not mean they haven't. If you suspect that a battery may have been swallowed - you must act quickly.
What can I do to make my home safe and prevent injuries?
Make sure to search your home for button batteries - they may be in items you didn't even know.
Button batteries are found in common household items such as:
watches
car keyless entry fobs
digital thermometers
calculators
keyring lasers, torches
musical greeting cards
children's talking books
any type of remote control (TV, garage, car)
cameras, phones
kitchen scales, bathroom scales
hearing aids
games/toys, novelties
light up flashing clothing, shoes and jewellery
fake light-up candles
Four easy ways you can help prevent button battery injuries

Look for items with button batteries
Keep these items and all spare or flat batteries out of the reach of children
Make sure the battery compartment is securely and tightly shut
Dispose of used batteries immediately and safely

Follow this quick button battery safety checklist
Have you checked your home for button batteries?
Make sure you include all items that use batteries as well as checking for spare and flat batteries.
Have you checked that the button battery compartment of all items that use button batteries is tightly secured?
Secure the battery compartment preferably requiring a tool like screw-driver to open so that the product cannot be opened by a child and will not pop open when the product is dropped.
Remember that children can be very clever and dexterous; give them the chance and they will find their way into battery compartments.
Do you store button batteries out of the reach of young children?
This includes items that use button batteries as well as spare and flat batteries.
While button battery ingestions can happen at any time of year, Christmas and school holidays are always busy periods for families. These time pressures may lead to people changing their normal routines and forgetting to take their usual precautions — leaving batteries or items that use button batteries unattended or not stored safely out of the reach of children. Holiday periods are also a time when families travel to visit relatives or friends so children are often in different environments and may explore drawers, cupboards or areas around the home they wouldn't normally.
Do you keep hearing aids and batteries separate to any medications or lollies?
Do you always dispose of batteries immediately and safely?
Remember that used batteries with no charge are still dangerous to children.
Dispose used batteries in a rubbish bin that is not accessible by children.
Have you checked novelty items and toys such as flashing jewellery and clothes given to your children for button batteries?
Have you entered ehe Poisons Information Centre phone number into your mobile phone - 13 11 26?
Resources
Button Battery Awareness Posters
A range of button battery awareness posters are available for the public about preventing injuries around the home, and for general practitioners and hospital clinicians about clinical symptoms and diagnosis.
Public
General Practice
Metropolitan hospitals
Regional hospitals
Translated information
Translated information about poisoning and keeping children safe is available on the Kid Safe SA website. Languages include:
Arabic
Bengali
Burmese
Chinese (simplified)
Chinese (traditional)
Dari
Dinka
Farsi
French
Hindi
Indonesian
Italian
Japanese
Korean
Nepali
Portuguese
Russian
Spanish
Thai
Vietnamese
Further information
For more information about button batteries and how to make your home safe contact:
The Battery Controlled - National button battery awareness campaign