For the menu below, use line-by-line navigation to access expanded sub-menus. The Tab key navigates through main menu items only.
Join our Nursing and Midwifery Team at RMCLHN
The Riverland Mallee Coorong Local Health Network, called RMCLHN for short, supports more than 70,000 people living in country South Australia in the towns and surrounds of Renmark, Paringa, Berri, Barmera, Waikerie, Loxton, Pinnaroo, Lameroo, Karoonda, Mannum, Murray Bridge, Tailem Bend, Meningie, Tintinara and Coonalpyn.
We are currently recruiting to a range of entry-level, experienced and specialised nursing and midwifery roles throughout our region.
Apply today and start your career with RMCLHN.
Contact us
Employment enquiries
For employment enquiries please contact our Human Resources team:
Phone: (08) 8595 2925
Email: HealthRMCLHNHR@sa.gov.au
There are countless benefits to working as a nurse or midwife with RMCLHN - both professional and personal.

Broaden your skills, knowledge and experience
As a nurse or midwife working in RMCLHN, you will have the opportunity to:
Work in acute, mental health, Aboriginal health, community based and aged care settings
Expand your professional knowledge and skills across a vast range of clinical and non-clinical functions
Develop skills and practice within the full scope of clinical professions
Professional development opportunities to work in different roles and at high levels.
Find out why our staff love living and working in the Riverland Mallee Coorong region …
Nursing and Midwifery

Aged Care Nursing

Living in our region
The Murraylands and Riverland are such great places to live, work, play and invest. Warm dry summers and relatively mild winters make it possible to take full advantage of life, all year round, in one of the most beautiful, naturally diverse regions in Australia.
The region provides abundant opportunities to explore and craft your own way of life. The landscapes and river, the people, the produce, and the sense of regional pride and community spirit make this a place you'll want to call home.
Residential property prices are substantially lower than the South Australian median and offer a mix of building and construction styles. Choose from wonderful old stone villas with large rooms, tall chimneys and high ceilings, or ultra-modern, open-plan, energy efficient spaces. You can also take advantage of the region's buoyant housing construction industry and build your dream home.
Each major town has a vibrant retail area, from the charm of traditional main street precincts filled with small local businesses, through to modern plaza style shopping centres with multi-national retailers and major supermarkets.
Local farmer's markets, together with the many roadside produce stalls scattered throughout the region, offer an impressive array of locally grown fresh fruit and vegetables. Hotels, clubs, restaurants, cafes and take-away outlets are shaping an emerging vibrant food and wine scene.
Our towns have a strong sporting culture, with multiple turf ovals, golf courses, tennis courts, bowling greens, netball courts, stadiums, recreation centres and swimming pools across the region. Other recreational opportunities abound, including bushwalking, fishing, boating and water-skiing.
The region has a community spirit to be proud of. The quality of life is greatly enhanced with the countless volunteer opportunities that make many of our regional events, activities and services possible. There's a host of avenues for social interaction and community involvement, and new faces are always welcome.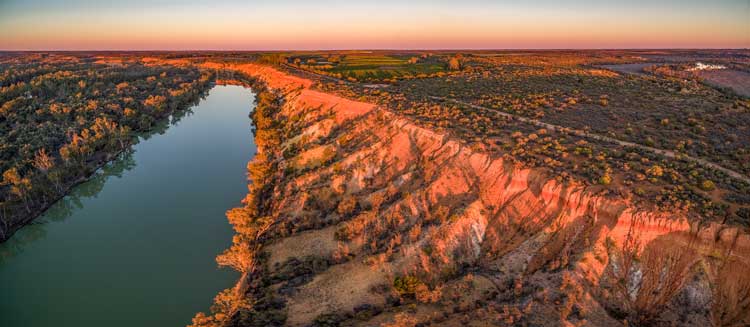 It's all about the lifestyle
Towns along the River Murray offer many types of activities such as boating, kayaking, water skiing, fishing or just socialising and relaxing on the riverbank or cruising in a houseboat. The region is home to the famous Monarto Zoo, one of the world's largest open-range zoos and home to more than 500 animals and 50 exotic and native mammals, birds and reptiles.
The region is great for kids, with plenty of outdoor activities, playgrounds and national parks to explore. The Monash Adventure Park is one such example catering for all ages and abilities with slippery dips, rope bridges, towers, flying foxes, mazes and much more. If you enjoy the thrill of motorsports, The Bend Motorsport Park at Tailem Bend brings you the fun and excitement of go-karting to supercars, superbikes and national series events. Head down to the coast and Lake Alexandrina to Meningie and the Coorong National Park to explore the diversity of wetlands of international importance with significant and endangered flora and fauna.
The region has a strong community and sporting culture with plenty of opportunities including golf, tennis, bowls, netball, swimming and bushwalking. You will find many local farmers markets and roadside produce stalls scattered throughout the region. The regions vibrant retail areas include small local business within main streets to modern plaza style shopping centres. Dine out at any number of hotels, clubs, restaurants, cafes and take-away outlets.
Find out more by visiting Destination Riverland and South Australia Places to Go, Riverland
Our seven major towns
Barmera
Barmera is situated on the shores of one of the Riverland's most scenic lakes – Lake Bonney. Barmera is often described as The Jewel of the Riverland and prides itself on its beauty and its produce.
Set in a backdrop of rich grassy banks and vibrant wetlands, this scenic town acts as the gateway to one of South Australia's favourite aquatic playgrounds where you can indulge in a collection of water sports.
Sit back and relax to some of the region's best wine with a panoramic backdrop of wetlands and vineyards at Banrock Station Wine and Wetland Centre or enjoy a regional food experience showcasing the diverse flavours the Riverland has to offer at Flavours of the Riverland.
Berri
Berri is located in the heart of the Riverland region and named after the local Aboriginal term 'bery bery' meaning bend in the river. The River Murray has meandering networks of waterways, endless horizons of orange earth and national parks.
Berri is not only a riverside town, but it is also surrounded by 3000 hectares of vineyards and wineries. Visit a number of the small boutique wineries around the region to have a taste of the local wines or dine at one of the local pubs or restaurants. Walk along the riverfront or relax and enjoy the perfect cappuccino at a little riverbank café.
Berri is also a multicultural town where you will find a thriving community culture with many volunteer groups and a strong emphasis on sports such golf, tennis, bowls, netball, swimming and wake boarding. Playgrounds and adventure parks such as Monash offer plenty of amusement for families. There are also many organised events to attend and enjoy throughout the year. You will find a range of primary and secondary schools to choose from including a TAFE campus.
To find out more, visit Aussie Towns, Berri and Visit Berri
Loxton
Loxton is situated on the southern bank of the Murray River with a golf course, retail and business centre, wine tasting, a range of festivals and events throughout the year and a variety of nature-based and water activities such as swimming, boating, canoeing, fishing and bushwalking.
The Village in Loxton provides an experience of the local history and stories of the region's early settlers or watch live sheep shearing and blacksmith demonstrations or try the Pioneer Playground for the kids. The region also has a good variety of produce particularly citrus fruits to award-winning wines at Salena Estate.
Mannum
Mannum sits on the bank of the Murray River just over an hour's drive from Adelaide. There are a number of pubs along the riverbank for a local meal and a range of supermarkets, boutique and retail stores, kindergarten, Mannum Community College with reception through to year 12 schooling and range of sporting activities through the Mannum Leisure Centre. Other popular activities are kayaking along the river, head out for a hike to discover the Mannum Waterfalls, or the Hermann Gass Bird Sanctuary's variety of birdlife.
Murray Bridge
Murray Bridge is the heart of the Murraylands and offers a classic river lifestyle situated 80km east of Adelaide. As one of the larger cities in South Australia, Murray Bridge provides all necessary services and facilities including a variety of primary and secondary schools, shops including the larger chain stores and the usual recreational activities. You can enjoy a full range of water sports, boating, fishing, swimming, motor sports, recreation, walking trails, restaurants, Monarto Zoological Park and the International pedal prix. The Bend Motor Sport Park is a short dive away at Tailem Bend.
It is a great place to step away from the bigger city of Adelaide without giving up any facilities.
Renmark
Set in the heart of the Riverland just over three hours' drive from Adelaide, the historic town of Renmark was established in 1887 on the banks of the River Murray. With its impressive ochre-coloured cliff tops, wetlands, birdlife, riverscapes it has wide streets and riverfront parklands for walking or cycling along the river. The name comes from the Aboriginal word meaning 'red mud'.
Renmark is home to Ruston's Roses who presents themselves as "Australia's largest rose garden and home of the National Rose Collection of Australia", you will also find award winning distilleries and an array of local produce including limes, olives, apricots, grapes, plums, garlic, oranges and many more. Renmark Square provides supermarkets and speciality stores and the usual variety of restaurants and cafes. There is a mixture of public and private schools, kindergarten and preschools.
Waikerie
Waikerie is described as the hub of South Australia's fruit industry with its many citrus groves and orchards, broad-acre farms, vineyards and sunny skies. In addition to the many local fruits enjoy the delights of local ginger beer, preserves, olive oil and other gourmet foods.
There is a good range of restaurants, cafes, bakeries and pubs to meet all food tastes, public and private schools, community sporting centre, and for those keen on wildlife watch the plentiful native birdlife or visit the local fauna reserve or Maize Island Conservation Park. The is a local art and crafts scene with the Waikerie and Riverland Arts Trail.
Our smaller towns
Karoonda
Karoonda is described as the heart of South Australia's Mallee region with a population of just over 1000 people. It is an important farming region for wheat and sheep and is known for its beautiful silo art and the big Merino Ram. Find out more about living and working in Karoonda.
Lameroo
The town of Lameroo is situated approximately 200km from Adelaide and 40km west of the Victorian border. It is a small and diverse farming community with a population of approximately 1000 people. The town features a small museum, plenty of parks and picnic areas including at Lake Roberts, and easy access to the Ngarkat Group of Conservation Parks – more than 270,000 hectares of unspoilt natural habitat. Find out more about living and working in Lameroo.
Mannum
The township of Mannum on the Murray River is just over an hour's drive from both Adelaide and the Barossa region. It has a population of approximately 2500 people and boasts a peaceful and relaxing environment in which to live and work. Mannum is home to the PS Marion paddle steamer and the Mannum waterfalls reserve. The town also offers countless boating, water sport and recreation clubs, activities and opportunities. Find out more about living and working in Mannum.
Meningie
Meningie is described as the gateway to Coorong country and is home to the spectacular Lake Albert. The town has a population of just over 1000 people and boasts easy access to the Coorong National Park and Younghusband Peninsula. Find out more about living and working in Meningie.
Pinnaroo
The town of Pinnaroo in the Murray Mallee region is situated near the border to Victoria and 240kms from Adelaide. It is well known as an agricultural town and is a major centre of the surrounding wheat, barley, sheep and mixed farming region. Pinnaroo has a population of less than 1000 people. Find out more about living and working in Pinnaroo.
Tailem Bend
The town of Tailem Bend is located on the Murray River, less than 100kms east of Adelaide. It is home to The Bend Motorsport Park and Old Tailem Town Pioneer Village, and a short drive to Murray Bridge and Monarto Zoo. The Tailem Bend District Hospital and aged care facility overlook spectacular views of the Murray River and local farmlands. Find out more about living and working in Tailem Bend.